New Zealand Wine Tours Queenstown

New Zealand Wine Tours Queenstown is a specialist wine tour operator providing personalised sight-seeing and winery tours around Central Otago. We limit tours to a maximum of seven people, small groups make our wine tours one of the best things to do in Queenstown (highest rated wine tour on TripAdvisor). Our Queenstown based tour tours are customised to suit the tastes of our passengers. Choosing from the widest range of wineries and scenic destinations in the region, we select the itinerary to best suit what you want to taste, see and do during your Central Otago wine tour. Small groups allow us to visit both large and small boutique cellar doors in Central Otago, from Lake Hayes, to Gibbston and Bannockburn. Every wine tasting tour comes with Lunch, snacks, free wi-fi and free wine tastings. Book your tour with New Zealand Wine Tours for the best Central Otago Wine Tour that Queenstown has to offer.
Small Group and Private Tours

Benefits of travelling with New Zealand Wine Tours


New Zealand Wine Tours are committed to ensuring that every customer enjoys their wine tour experience with us. From our bespoke, custom designed vehicle interiors, to our unique tours, every detail is designed with your comfort and enjoyment in mind.

Small Groups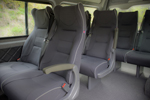 We limit our small group tours to just 6 – 7 people. This allows enough flexibility in our tours for our guides to give each person a personalised experience. It also means we can visit the small boutique wineries that can not accommodate larger tour groups.
Scenic Stops


We regularly visit some of the best scenic and historical hot-spots in the region. We include visits to the Crown Range Lookout, the Cromwell Old Town, Kawarau Bungy Bridge and Arrowtown's Historic Town Center whenever time allows on our tours.
Vineyard/Winery Tour

What does it take to grow great wine grapes? How are the best wines made? Learn all about it with our unique vineyard and winery tour on the Pinot Country Tour.
Professional Guides

Our tour guides are industry professionals with a wealth of knowledge about wines, lifestyle, scenery and history of Queenstown and Central Otago.
Free Snacks

In addition to the included lunch, we offer a selection of fruit, chocolate and bottled water to keep you from feeling peckish during a long day tasting.
Free WiFi

We offer free internet access for all WIFI capable devices, so you can share your thoughts and pictures with all your friends on Twitter, Facebook or Instagram.
0800 666 778



Read our reviews on Trip Advisor